Who We Are
---
Welcome to FRESIA.
We teach, exhibit, and share with others the activity of art. Our work is based upon a simple idea – articulated nicely by Robert Henri – which is this: art is the province of every human being. This thought is central to all our projects. Each of us has the capacity to create, to feel profoundly, and to express who we are.
We focus on painting and we do this through our art school, videos, exhibitions, and writing. We live and work on Lake Como, Italy. Our painting workshops take place in Lenno while our gallery is located in Bellagio. Both are in the central area of the lake.  Our painting workshops have been on-going since 2004 and we have drawn students from around the world – 32 countries, from every continent except Antartica, to be precise.
Our videos, blog and books are available on-line.
FRESIA is a husband-wife team whose goal is to encourage the enjoyment of art and to promote the spontaneity and visual pleasure of seeing the world around us in a sensual and enchanting way. Our hope is that we can bring both romance and the radical challenge of Impressionism circa 1880 Paris into our contemporary setting.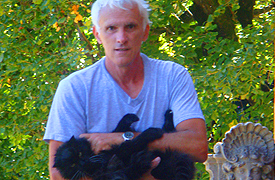 Jerry Fresia received a PhD in Political Science from the University of Massachusetts at Amherst and has taught at numerous US colleges and universities. He left academia in 1989 and settled in San Francisco to pursue a career in painting. In San Francisco he was an exhibitor and Executive Director of two outdoor art exhibition groups. He has written extensively on both art as well as the political-economy of the United States. Email: jerryfresia@hotmail.com
Conchitina Miguel (Gallery Director) received a Masters in Business Administration from the University of San Francisco. She has six years work experience in the banking industry and 12 years in the travel and tourism industry. A painter herself, Conchitina is also an avid cook who is passionate about mediterranean-vegetarian cooking. Email: conchitina@fresia.com